The VETLOVESFOOD 2023 International Virtual Challenge ended with 12 recipes submitted: of these, 10 were considered as living up to the definition of eco-sustainability, highlighting not only local traditions, but also the participants' green skills in creating sustainable, low-carbon and zero food waste recipes.
---
This unique competition aimed to bring together passionate individuals and culinary experts to showcase their innovative cooking recipes that not only tackle food waste but also contribute to reducing our carbon footprint. We were truly amazed by the creativity and commitment demonstrated by all the participants.
We want to take a moment to express our gratitude to each and every one of you who Comprar cialis generico barato en españa participated in this journey. Your dedication to promoting sustainable practices in the culinary world is truly inspiring. Together, we are making a significant impact on the way we think about food and its environmental implications.
---
The challenge was aimed at senior professional chefs, vocational training students over the age of 18 and HORECA students under the tutelage of a vocational training teacher; the recipes were evaluated using a double criterion.
On the one hand, the first criterion was the votes received on social media;
On the other hand, international judging criteria were used: the carbon footprint of the recipe, the arrangement and number of ingredients, technical accuracy, the ratio between different macronutrients and the interpretation of the motto 'Rethink – Reduce – Reuse' .
---
Among all the 12 recipes submitted, up to the standards set by the challenge, that of the Quoquomodo Zefiro students – who participated under the tutelage of VET teacher Simone Carone – triumphed:
𝕊𝕡𝕖𝕝𝕥 𝕣𝕒𝕧𝕚𝕠𝕝𝕚 𝕗𝕚𝕝𝕝𝕖𝕕 𝕨𝕚𝕥𝕙 𝕝𝕚𝕢𝕦𝕚𝕕 𝕡𝕖𝕔𝕠𝕣𝕚𝕟𝕠 𝕔𝕙𝕖𝕖𝕤𝕖 𝕤𝕖𝕣𝕧𝕖𝕕 𝕨𝕚𝕥𝕙 𝕤𝕨𝕖𝕖𝕥 𝕒𝕟𝕕 𝕤𝕠𝕦𝕣 𝕔𝕙𝕖𝕣𝕣𝕚𝕖𝕤 𝕒𝕟𝕕 𝕓𝕣𝕠𝕒𝕕 𝕓𝕖𝕒𝕟 𝕤𝕒𝕦𝕔𝕖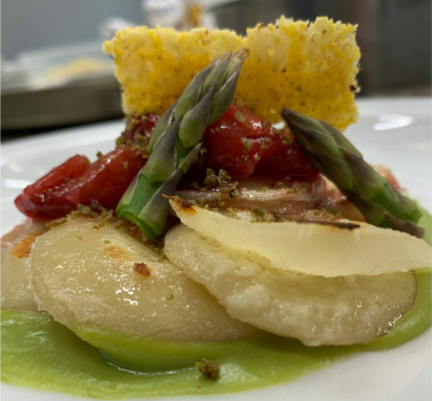 [HERE] you can find the recipe, so you can reproduce it and amaze your guests with a delicious and eco-friendly product, perfectly in line with the VETLOVESFOOD style!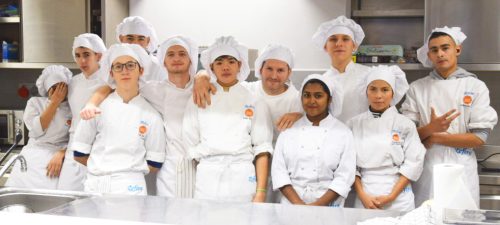 Congratulations to the Quoquomodo Zefiro students, who won an e-masterclass held by [ESHBI]!
We look forward to seeing what other surprises these young talents have in store for us in the future!
---
Congratulations also to the second and third place winners:
JOANA CARLOS won SECOND PLACE with her SMOKED MACKEREL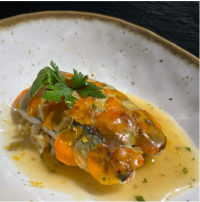 ---
and RAÚL SALINAS took THIRD PLACE with his TACAÑO (CHEAPSKATE).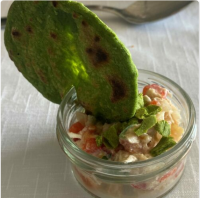 ---
You can see their recipes and those of all the participants by clicking [HERE] for more greener, delicious and simple recipes!
These winners have not only demonstrated their culinary prowess but have also shown us the way forward in embracing sustainable practices in the kitchen. We encourage everyone to explore their winning recipes, learn from their techniques, and discover how to make a positive impact on our planet through mindful cooking.
We would also like to acknowledge and appreciate all the participants who took part in this challenge. Your recipes, ideas, and dedication have added immense value to this initiative, further raising awareness about the critical issue of food waste and its environmental consequences.
Once again, congratulations to the winners and a big thank you to all who participated in the VETLOVESFOOD RETHINK FOOD Virtual Challenge. Together, let's continue to rethink food, reduce waste, and make a difference with every meal we prepare.